The world is going digital – fast.
And we want to help you become a part of it. Optimising business processes makes life easier for you and your employees. It also improves your company's efficiency by eliminating tedious paperwork. At smapOne, that's what our mission is all about.
In short: we empower you to simplify work and life.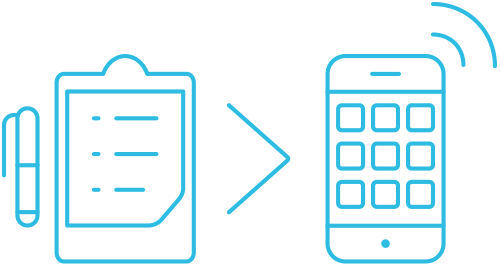 Ready-to-Go No Code App Use Cases
So how do you begin? By discovering the true power behind our seamless no-code app builder. Want to improve your logistics processes? Upgrade your facility management workflow? Need efficient construction site practices? We've gathered several use cases to highlight our solutions.
Custom Form App
Paper forms slow down processes and make work tedious. They're also easily damaged by weather conditions. At smapOne, we offer a platform to smoothen your analogue processes. Thanks to custom digital form sheets, you can experience seamless digital transformation. Even better – you can customise these to suit your own company and team's needs!
Checklist App
Still using clipboards? Still slogging away putting data into the computer? Checklist apps are much easier!
Make tedious data entry a thing of the past and stop wasting paper! Our no code app maker lets you create custom solutions that save you time and money. Speed up your processes today.
Data Capturing App
Analogue data capture is over! Snap information fast with your mobile device. All you need is a custom app (a "smap") and your smartphone. Mobile data capture (MDC) then lets you record information quickly and easily, wherever you are. Even when far from your workstation!
Data Collection App
Analogue data collection, recording and documentation is old hat. By creating your own, custom digital app for collecting and recording information, you'll be far ahead of everyone in terms of efficient businesses. Forget about scanning paper documentation… the future is digital!
Digital Inventory App
Inventory management can get complicated, fast. But accuracy is important. Since pen and paper often produce errors, digital solutions make a big difference. They also save time. Use our no code app builder to create a tool to save you time and money, freeing your from errors.
5S Compliance Audit App
Running any kind of internal audit will take time. 5S audits, audits for healthy and safety all need to make the mark.
Doing this with analogue processes can drag the procedure out longer than necessary, wasting valuable time.
Risk Assessment App
Assessing risks is complicated. Many risk assessment processes take up valuable time. Cutting out unnecessary and outdated parts can make your workflows smoother and more accurate.
The smapOne App Builder lets you create your own, custom risk assessment app. A range of different modules (cameras, form fields, etc.), lets you build a solution that suits your own needs.
Internal Communication App
Communication is the key to success in business. Organisations can improve their efficiency by using a central communication channel for employees. This can be used for important updates, company-wide announcements and more. Creating your own, custom communication app is now easier than ever. Communication can now be as simple as a bulletin board – a board your employees have access to everywhere, all the time.
Digital Fleet Management
In logistics, it is vital that your fleet keeps running efficiently and on time. And all within budget. This process can be seriously hampered by tedious analogue processes. These don't just take up valuable time. They also eat into your budget.
That's why smapOne's app builder platform provides a simple way to create your own digital fleet management solution. With different functions in the form of building blocks, you can play around and create your own custom app for managing large fleets.
No programming skills necessary
Can be used online and offline
Data protection conformity
Compatibility through REST API
No Code Apps for Various Industries
Want to improve your logistics processes? Upgrade your facility management workflow? Need efficient construction site pactices?
You're in luck because smapOne can help!