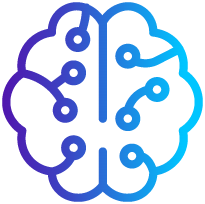 smapOne presents
AI-Assisted Citizen Development
Create smaps 360x faster
Creators, we heard you! Building smaps just got easier and faster. AI-assisted citizen development combines the power of artificial intelligence
with the simplicity and user experience of smapOne.
What's a smap?
A smap is a customisable app built on smapOne's no-code platform for purposes like data management, process automation, and digitising work. Accessible on phones or tablets, it streamlines team operations and requires no programming skills to create.
The Power of No-Code Development
Picture this: time and again, a single process causes pain, saps motivation, and freezes your team. This stubborn process, either manual or inefficient, blocks productivity, drains resources, slows progress, and hinders collaboration. It's the obstacle that keeps your team from excelling.
Enter Citizen Development, the game-changer that tackles this challenge and uncovers multiple hidden bottlenecks. With the brakes off, your team streamlines and reinvents processes, boosting productivity in no time. As your process cycles shorten, collaboration thrives, and speed picks up. Your team experiments, tests, and adapts, keeping only what works. Morale soars.
Welcome to a brighter future for your team.
Embrace a digital transformation that elevates productivity to new heights. With citizen development, experience custom solutions made by your team, for your team. And the cherry on top? No coding skills required.
"With smapOne, we can tap into greater digitalisation potential to foster our employees' creativity, quickly turning our ideas into prototypes or finished smaps ourselves."
Stefan Hohm, CDO at DACHSER SE
No More Idea Burnout: Endless Possibilities, Zero Overwhelm
As time progresses, ideas for new projects rapidly grow. Your team of citizen developers, excited to bring these ideas to life, are captivated by the endless possibilities.
However, despite their passion and hard work, they soon feel overwhelmed by the sheer volume of ideas demanding their attention. Struggling to find time and resources to implement them all, they work tirelessly, clocking in long hours to keep up.
They crave a solution that can help them bring their ideas to life efficiently, unleashing their full creative and innovative potential.
"Once you understand the citizen development approach and create the first smaps, ideas start bubbling up. I have so many ideas and I don't know when to implement them."
-Creator Lorena Meininger, Head of PMO at Zufall Logistics Group
We're Revolutionising App-Building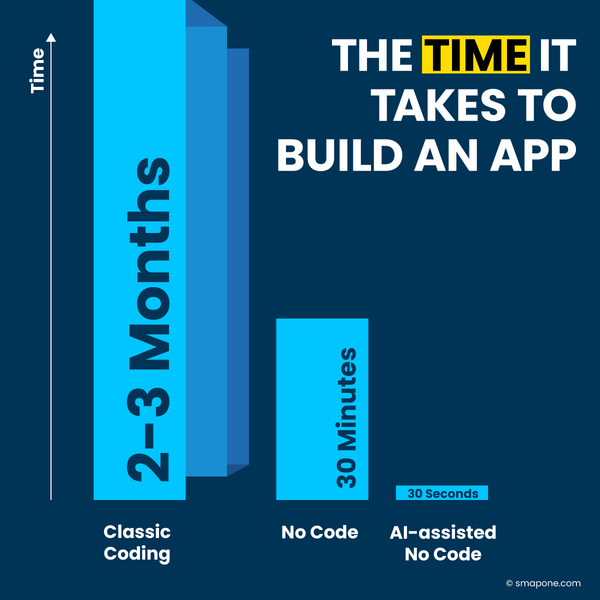 2-3 Months
That's how long IT experts need to build an app using regular software development methods.
30 Minutes*
That's all a citizen developer requires to create a simple smap, using our no-code solution.
*Citizen developers might need 2-3 hours to tackle more complex smaps and may not be able to handle all ideas for optimisation.
30 Seconds?
Limitless possibilities. We're actively exploring the role of AI in citizen development at smapLabs .
*Citizen developers might need 2-3 hours to tackle more complex smaps
and may not be able to handle all ideas for optimisation.
Powered by Artificial Intelligence
Build a functional prototype in a few seconds
Text-to-smap (Beta): Do you have a new idea for a smap?
Let AI create your smap for you from simple text-based prompts.
Create text-based smaps
Prototype in 30 seconds
Works with formulas and logic
Works with formulas and logic
Explore No-Code Solutions
Enter smapLabs: our cutting-edge, no-code research lab
We are continually exploring possible new functions
Our AI-prototype "smapifier" is partially open for user testing
We connect with you via the smapLand community for feedback
Let AI Create Your smap
Introducing the smapifier
We've developed a prototype called the "smapifier", which utilises generative AI to create and enhance smaps.
This tool is designed to assist citizen development and is supported by ChatGPT 3.5 and 4.
Text to smap:
You can build prototypes of simple to complex smaps using text-based and conversational prompts.

PDF to smap:
You can create smap drafts by uploading PDFs and images of forms.

Chatbot:
You can ask AI to optimise and improve all existing and new smaps.
With the smapifier, you can turn your ideas into a smap in 30 seconds. Now you can save time–anywhere between two to three hours and up to three weeks.
smapOne no-code creators get access to testing areas via the smapLand Community.
Here, you can actively participate in the development process, and share your experience and feedback.
Get started with smapOne
We're convinced that AI will massively accelerate and redefine citizen development, helping us in our mission to simplify lives.
Our smapLabs team is working tirelessly to provide you with AI-assisted, no-code solutions. Keep on the lookout for what's next.