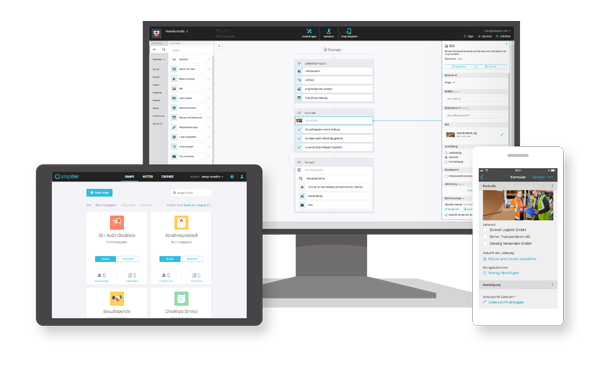 Property Management Apps for Digital Property Management
Printed forms, photographed meter readings, badly filled-out reports – transform your analogue processes into apps. The all-in-one solution: use smapOne to capture your data on energy management, cleaning checks, maintenance, damage recording and much more, simply and digitally.
Build your own property management apps – in just 30 minutes.
Digital transformation is changing the world permanently. smapOne is your quick start for easy entry into the digital transformation of the real estate industry.
Get a free 14-day trial today.
Create Your Own Facility Management Software
The intuitive app builder from smapOne
The app builder lets you present every form, log and report as an app. Select ready-made app modules using the Drag & Drop principle to create your custom facility management software (a "smap"). Alternatively, you can take one of our many app templates and adapt them to your needs. So simple and so intuitive – the app builder makes digitalisation fun!
What are your areas of operation? Which of your analogue processes do you want to turn into apps? You won't be left alone at the start, we'll be happy to help you with your mobile facility management strategy and provide useful insights into the digitalised real estate industry.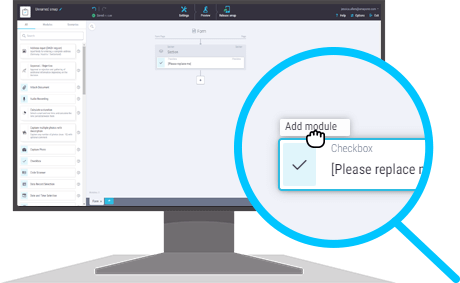 No programming skills necessary
Can be used online and offline
Data protection conformity
Compatibility through REST API
A Wealth of Possibilities with Facility Management Apps for the Real Estate Industry
At smapOne we provide you with an agile solution. Countless app templates are available to use as facility management apps (or "smaps"). These templates let you create as many apps as you'd like, no limits. Take just a few minutes to map various use case scenarios along with the value chain that can be mapped using the app builder – and updated anytime, in real time. Need ideas? Take a look at the following:
Cleaning Checks
100% saving on paper printouts.
Real time evaluation on cleaning services performed.
Fast recording of defects or damage (using the photo module).
Clearly legible & completely filled-out logs.
Maintenance
50% time savings thanks to simplified documentation process.
Real-time maintenance activity status evaluation.
Faster data processing: assigning service providers, ordering spare parts, employee workload.
Defect Recording
Multimedia recording (image, sketches, audio & text) via smartphone or tablet without any media break.
More efficient processing saves valuable time and improves your reputation.
Defects are fully documented and forwarded to customers and service providers.
More Use Cases for smapOne Include Apps for:
Maintenance
Meter reading
Control period planning
Road safety checklist
Spare parts supply
Drivers' logbooks
Monitoring rounds
Fire safety
Safety at work
Working instructions
Order entry
Inventories
Acceptance reports
Property inspections
Fault reporting
Quality management
Service provider check
Checklists (e.g. for repairs)
Working time records
Garden maintenance / winter service
We were all surprised at how fast and easy it is! For us, this is the perfect solution for experimenting and taking the initiative to digitalise our company.
Magnus Rode, CALANBAU Brandschutzanlagen GmbHCALANBAU Brandschutzanlagen GmbH
Working with paper forms is no fun. Thanks to the offline-capable, intuitive and individually adaptable apps, a high level of acceptance was quickly established among technical colleagues.
Timo NovotnyBAM Immobilien-Dienstleistungen GmbH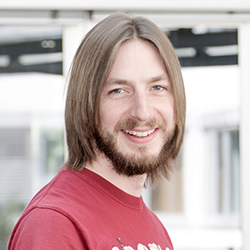 This form and app builder hits the spot – especially in the energy industry. And the nice thing is that employees really love it.
Aaron Schrader, Manager Digital TransformationAvacon Netz GmbH
The smapOne tool helps us to capture data very time-efficiently and thereby guarantee rapid implementation. This provides us with a consistent process, which ensures high quality, as well as reducing the time spent on tasks by our employees.
Rafael WilkeVonovia SE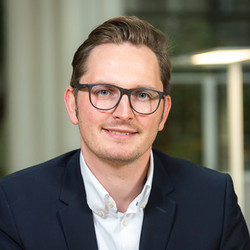 With smapOne we have created around 30 checklists, really simply and with a very fast turnaround. This means we've not only increased our effectiveness, but also evaluate data better and even save on costs.
Tayfun Tekinvi2vi Retail Solution GmbH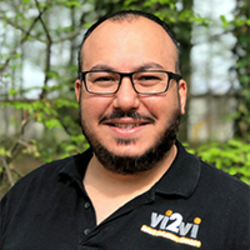 With 500 orders a year, thanks to the app solution we are saving valuable working hours, which we can use on new projects. Furthermore, we are lowering our costs thanks to delivery on demand and have been able to considerably optimise the whole order process, from order arrival through to delivery to the end customer!
Sven WehmeierXylem Water Solutions GmbH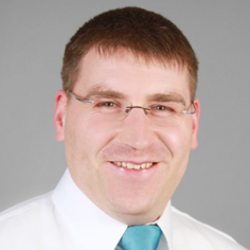 With smapOne there are no limits to flexibility. That was exactly what we were looking for.
Malte Blanck, Head of Control EngineeringKraftwerk Kraft-Wärme-Kopplung GmbH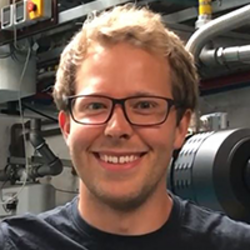 Previous
Next
Facility Management 4.0 Examples – How Businesses Use smapOne
We are established digital experts in the facility service industry and have a deep understanding of your challenges. We can illustrate this with a wide range of use case examples. And it's not only technical facility management, property management and smart maintenance that benefit from the enormous potential of digitalisation. You can also find inspiring solutions across our topic pages relating to other industry scenarios.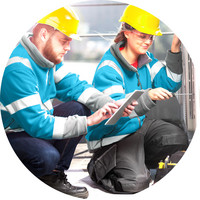 Service / plant engineering
Thanks to apps, mobile technicians benefit from standardised forms and checklists. This includes the fast handling of documentation, without the need for follow-up work.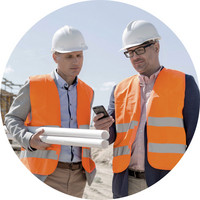 Construction industry
The mobile construction industry relies increasingly on occupational safety apps as well as construction report apps. This ensures compliance with important guidelines.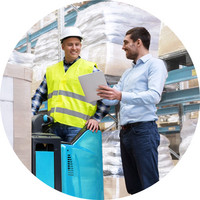 Logistics
Mobile data capture via app optimises the incoming goods process and vehicle checks. This in turn minimises recourse claims.
---
Software for Property Management – One Solution for All!
Checklist App
Digital checklists for inspecting and monitoring the condition of property and equipment are a major asset to property managers. They help by swiftly recording compliance with important regulations.
Data Capture App
Lighten employees' workloads with a mobile data capture app. Predefined fields, logic and calculation functions including fast multimedia capture via mobile devices will increase motivation and productivity.
Documentation App
You're the one who creates the best documentation software for your needs! Customise fields, descriptions and sketches to suit your preference and send tailored data instantly to your back office. There's no faster or more customized way of documenting!
Form App
Using your form apps and the reporting function, create ready-made contracts and handover logs, and have them sent to you by e-mail. Nothing stands in the way of direct further processing.