BSH GMBH & Co. KG
Lukas and Lea at BSH build business apps for their company
We introduce the people behind the success story.
The email program goes "ping, ping, ping". Photos of recently installed solar panels are arriving. It's cause for a celebration, but the site manager knows that an enormous amount of follow-up work is now waiting. Analysing images, assigning them to the appropriate site, filling in missing data and collecting additional information is time-consuming and laborious. "It can't go on like this," he decides. "We need a modern digital solution. And we need it quickly." Shortly after this, he's standing in Lea's office with a pile of notes. On the heap of loose papers, he has outlined a vision of new digital reporting for photovoltaic technicians.
Business apps for technicians from the construction kit
Lea is not an IT expert, but she is an optimist. She sets out to find a solution, a tool for the problem. And she finds what she's looking for: the no-code construction kit from smapOne, with which IT laypeople can build "smaps". These smaps are self-built apps for everyday processes that are often forgotten in large-scale digitisation projects: clipboard processes, handwritten forms, checklists and logs.
Lea had doubts at first. Is that even possible without programming knowledge? After two days of moving app components back and forth, trying them out and optimising them, Lea had digitised the "assembly report" process with a smap. And it works! She's proud.
A digital process does not ensure a digital mindset right away
The site managers are also excited right away. No more photo chaos; all assembly data in one report, which is complete, analysable and available in real time. This results in plenty of time saved and stress reduction. There is also more transparency for the customers of BSH GmbH & Co. KG. After the installation of their photovoltaic system, they automatically receive a report with all necessary information about the system and the installation. However, the technicians who have to utilise this process are sceptical at first. All of a sudden, they have to fill out full reports in their own app on their tablet. There are mandatory fields in the digital form that must not be left blank, and the installation site also has to be fully documented with photos. Will it really be faster than before?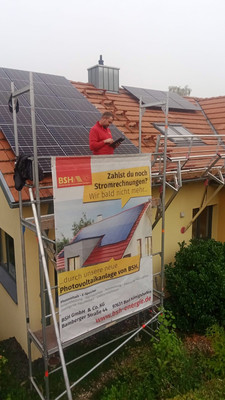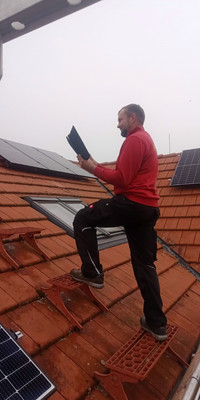 smapOne helps BHS workers to be faster and more efficient
A change of mindset? Sure! And really quickly.
After a few days of getting used to the system and making small adjustments here and there in the smap, which Lea can easily take care of in minutes, the technicians are also fully convinced. They quickly get many new ideas where other smaps could be used to digitise processes in the company and solve everyday problems. So many, in fact, that BSH brings another creator on board: Lukas. He had never built apps before either. First, he built a test app. "It took no time at all," he says. As the main contact person, he now takes care of optimising processes and, as a smapOne creator, builds his own smaps whenever required.
Apps for PV technicians
Lukas has already built many additional apps that are now in use:
Acceptance Report app: For the electrical installations and the installation of equipment on the roof
Test Report app: For the electrical systems
Measurement Report app: To record the roof before installing a PV system
Missioning Report app: For commissioning with the energy supplier
Material Orders app: To ensure vehicles are always restocked correctly
Management/Work Order app: For additional work that will be invoiced separately
Service Report app: For guarantee repairs, which are settled with the manufacturer
Empowerment: creators grant wishes for everyday digital helpers
"We could do something quickly with smapOne, couldn't we?" When new ideas for digital processes come from the workforce, Lukas sits down with a few colleagues and sketches out a solution. He then thinks about how he can map the process with a smap, fits together the appropriate building blocks on the smapOne App Designer, and sometimes adds simple formulas and a bit of logic. He then releases the smap as an MVP (Minimum Viable Product) for colleagues to use. Together they optimise the smap step by step. Rapid prototyping is the technical term for this, but that doesn't interest his colleagues. For them it's important that the adjustments can be handled quickly – without any complicated applications or specification sheets.
Lukas: "I always try to put myself in the shoes of my colleagues. Sometimes, during testing, we notice that some things still need changing. I then move a few building blocks around or simplify something even further. This can be done really quickly."
Resourceful employees like Lea, Lukas and their colleagues are building our future
Lukas and Lea are citizen developers. Or IT laymen who develop business applications using no-code tools. Citizen developers are the future of IT, as the need for digital applications in companies continues to grow and IT professionals are in short supply. Citizen developers provide reinforcement for programmers, who are often few and far between. This defuses the problem. Resourceful users and tech-savvy employees represent a huge and, as yet, little-tapped source of potential for digital progress.
When companies empower their employees to create digital processes themselves, they not only gain "citizen developers"; they simultaneously create a digital mindset and a feeling for digital opportunities throughout the company, and therefore drive forward the digital transformation of their business faster.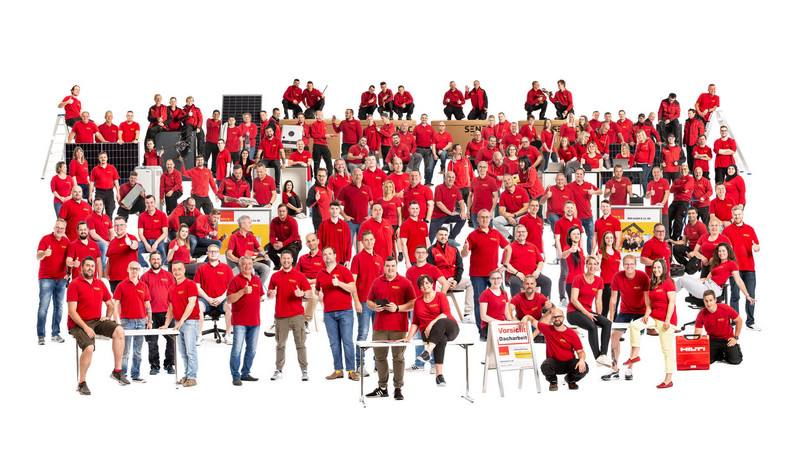 "Traditional craftsmanship meets the digital age. Our technicians, electricians and service staff use smapOne for assembly documentation on their mobile phones and tablets. Our customers and the office staff receive the individual reports directly and automatically by e-mail. Satisfied employees inspire happy customers. With smapOne, we have an innovation driver at our side that makes digitising documents child's play." Christian Grünberg (Management)
What's next?
At BSH many more projects are on the agenda. One of the next big steps is BITRIX implementation, which is the integration of smapOne into the company's ERP system. Rainer Bötsch, the managing partner, formulates the vision for the future: "To digitise additional procedures, optimise processes and protect our environment sustainably. With smapOne, we benefit from an imaginative partner."
Lea and Lukas are certain that anyone can declare war on paper chaos in their company themselves. It's fun, it's easy, and you just have to have the guts to do it.