HONOLD CONTRACT LOGISTICS GMBH
Innovative strength through employees – Honold digitises from within with self-built apps
Manuel Schneider, Head of Integrated Management Systems at Honold Contract Logistics GmbH, was not initially looking for a solution to an acute problem. He wanted to promote an innovative mindset within the company and drive forward promising projects that would catapult the company into a new era. During the "discovery" phase he came across smapOne and was enthusiastic about the possibilities it provided. Based on specific use cases in the company, the utilisation opportunities and potential of smapOne were determined and piloted.
Vision: green and innovative
The company offers its customers the most efficient processes along their supply chain by using the latest technologies and adopting a cross-generational and ecological approach. Concepts for green IT data centres, electromobility and state-of-the-art logistics real estate are part of the corporate strategy. There's a reason why the company proudly bears the slogan, "Logistics is green". During the course of innovation management, traditional processes are being rethought and transformed into lean digital processes.
The challenge: too much paper and inefficiency
There was efficiency potential in internal analogue processes – including from an ecological point of view. Manual reports on preprinted forms, which had to be supplemented with photographic documentation, sometimes led to high post-processing costs. Digitising the data, creating documents and merging them with the photos that were created also resulted in sources of error due to poorly legible handwritten notes and the possibility of mixing up image material. In the specific case of the inspection of incoming goods, this procedure was necessary for each recorded defect, and the documentation also had to be sent to the customer by e-mail.
Similar procedures with many media breaks were evident at various points within the company. This resulted in time-consuming and costly processes and complex data quality assurance. Before the smapOne platform was discovered, these processes were performed as a necessary routine. The use of apps had already been thought of for various topics. However, as these had always been individual solutions up to that point, the ideas were discarded for cost reasons.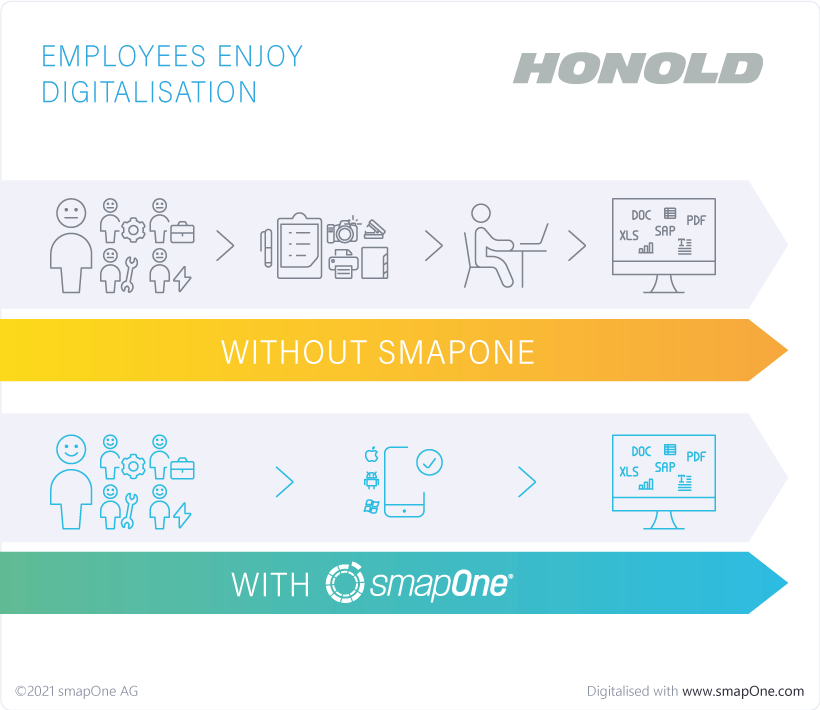 The mindset: first sceptical, then enthusiastic
Prior to working with smapOne, Honold informed employees at 14 locations and explained the planned approach. At the employee level, the idea did not initially meet with a positive response everywhere. The challenge of breaking out of tried-and-tested routines and taking the leap into digitisation triggered scepticism at first.
Those involved in the project knew that employees in the specialist departments understood their processes best and so understood best how to optimise them. These employees were actively taken on board. In several workshops, smapOne demonstrated exciting possibilities for using smaps (self-built apps) to easily and independently design one's own workspace and specifically implement digitisation in the company. The workshops were very well received and dispelled any doubts and concerns.
Employees become innovative creators
323 | prototype smaps in 18 months
48 | active smaps integrated into company processes
15 | company templates for even faster smap development
The solution: time-saving and motivating
Interested, tech-savvy and committed employees were now trained as "creators" at the various locations. Since then, they've been analysing and evaluating existing processes and creating suitable solutions for their own processes. The employees' enthusiasm was, above all, fuelled by the fact that they were not presented with ready-made solutions. Instead, they could actively contribute to and design the solutions themselves.
Using the example of incoming goods inspections, Manuel Schneider explains: "We generated a much more efficient solution with smapOne while ensuring customer needs were met, which in turn enabled us to proactively generate added value for our customers. Customer enthusiasm about the use of smaps was a formative experience for me."
In 18 months, the creators of the Honold Logistics Group "developed" more than 300 prototype smaps and integrated almost 50 active smaps into various processes. This has saved a lot of manual post-processing work. In addition, employees find their daily routines less laborious, are more motivated and have more fun at work.
What are smaps used for at Honold?
Checklists and reports for things such as forklift and rack inspections
Incoming goods inspections, which include the documentation of defects identified during delivery
Departure checks
Training courses, instruction, knowledge queries
In the meantime, an active Creator Community has developed within the Honold Logistics Group. They regularly communicate with each other, exchange new smap ideas and therefore provide inspiration for the digital future of the company.
The side effect: creators "think" in smaps
Manuel Schneider, Head of Integrated Management Systems at Honold Contract Logistics GmbH, is enthusiastic and reports: "We thought smapOne was a tool for digitising peripheral processes – but it's much more than that! With smapOne, we have given our employees a tool with which they can easily and independently improve and digitise processes." And what's more: "The app construction kit from smapOne has now become the norm for our employees. The solution has sharpened our creators' understanding of processes. They think in terms of smaps, you could say. When a problem arises, they first consider whether they could quickly build a smap for it themselves, which is really cool!"