OST BAU Osterburger Straßen-, Tief- und Hochbau GmbH
Apps on the construction site make broadband expansion easy to document
What is the specific challenge?
OST BAU is a construction company with a large portfolio of services in civil engineering, structural engineering, civil works and road construction. The many different construction projects and variety of customers demands maximum process flexibility. Documentation guidelines also vary from project to project. These guidelines are particularly strict when subsidies are paid in the form of grants. These cases in particular mean formalities must be followed to the letter.

For OST BAU, this challenge became apparent when they were awarded the contract for a broadband expansion. The municipality was supported with subsidies during the expansion and OST BAU had to quickly find a documentation solution that meets all the criteria of the GIS regulations. These are mainly geodata, which must be collected according to very specific specifications and submitted regularly to justify the donations from the federal government.

They needed a way to capture georeferenced images every 500 metres, display them in a suitable map section, automatically generate PDF reports with custom templates and store the data correctly in the system with the help of a REST API (programming interface). A key requirement: data collection had to be possible offline, as internet coverage on the construction sites is often not guaranteed.
What is the solution?
A quick Google search brought up the smapOne solution. They created a test account and after an evening of trial and error, they decided that they could use the modular system to make an app that met the federal government's strict requirements. The next day, they presented smapOne to the site management team. A week later, the first smaps (self-created apps using smapOne) were used. From purchase to use in less than 7 days!

Today, 27 apps are used daily in three broadband expansion projects by a total of 47 users. Today, 27 apps are in daily use in three broadband expansion projects with a total of 47 users. With tablets and smartphones, a smap is used for laying the fibre optic cable, documenting evidence of house connection or a creating construction site reports. This can also be done offline and, once there is an internet connection, the data is transferred and relevant reports are generated based on a template. Existing REST API makes storage in the system fully automatic and there's no need for manual data maintenance.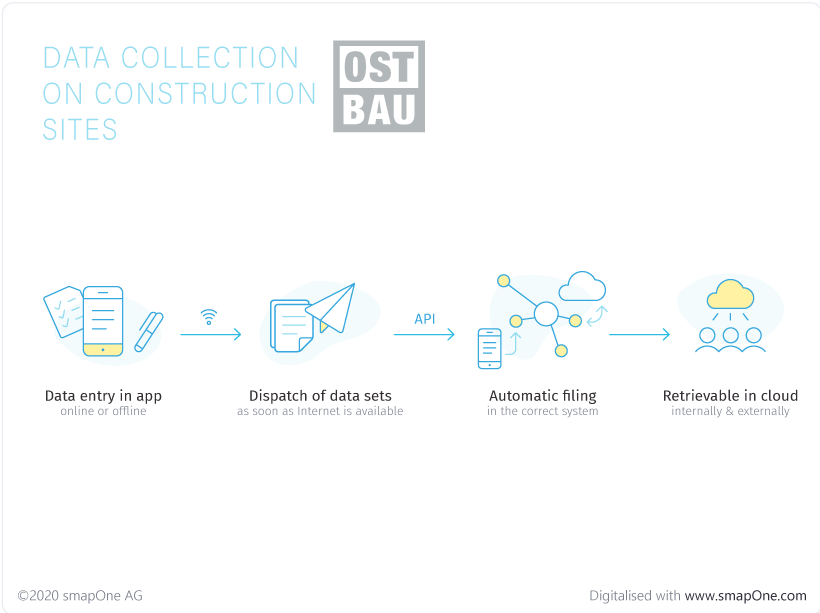 What are the benefits for the customer?
The flexible, modular system of smapOne means that it's easy to design an app that queries the required data in a structured and compliant maner. Potential georeferencing, filling automation and storing report templates means all prerequisites are in place to meet the specified conditions.
Flexible report templates can be adapted to individual requirements
Automatically generated PDF reports can be defined as required using templates to meet the formal requirements.
Clients can view data in the cloud
All data collected through the app is stored directly in the designated location through REST API. Clients can view and check these at any time in the cloud.
How does digital transformation work in the company?
Before introducing smapOne, the company tested other digital solutions. A major issue was that data collection couldn't happen without an internet connection. This meant problems using apps when there was no wifi on the construction site. Many third-party solutions were also inflexible. In contrast, smapOne can be used to create flexibly configurable apps for each individual project.

Easy-to-use and straightforward handling of smaps, in addition to offline capability meant employees loved the solution from day one. TData is recorded offline and sent the moment an internet connection returns, nothing lost. And thanks to the REST API, everything is automatically stored in the correct folder path. REST API also means everything is automatically stored in the correct folder path. This means no need for post-processing.

The flexible modular system means that employee feedback and change suggestions are easy to implement. The quick results were enough to convince OST BAU to use smapOne for collecting data in future broadband expansions.