OSBRA Formteile GmbH
Digital data as a high-speed process accelerator – the digital journey of OSBRA Formteile GmbH
OSBRA Formteile GmbH has been supplying leading car manufacturers with innovative plastic parts for interior and exterior use for over 40 years. The company has grown significantly in recent years, doubling its production space. To continue producing high quality products and maintain an overview of production processes, a fast digital solution was needed. A customer who was already using smapOne made a recommendation, sparking the company's interest in its own business apps for process control.
The challenge: to detect errors in production before they occur
The biggest challenge for OSBRA was to make machine data visible – ideally in real time. This way production errors were avoided and set-up times reduced with the effectiveness of quality measures and readjustments rendered verifiable immediately. Previously, measurement values and machine dimensions were recorded manually. They were then entered in one or more Excel tables and processed graphically, which was very time consuming. These processes didn't just take up plenty of time; they required multiple employees to work on them. One team member would have to collect the data, another would have to input it into Excel and a third would have to make the data presentable for reading. This lengthy process meant that, sometimes, important machine data could only be analysed at the end of the working day. This becomes problematic, since absolute precision is required in production. Only a minimal measurement tolerance is permitted for the plastic parts that OSBRA GmbH manufactures, primarily for the automotive industry, and it varies from customer to customer. The machine parts move during the day, which means they also approach the tolerance limits. If adjustments are not made in time, the number of faulty parts produced increases by the end of the day, and the end customer cannot be billed for them.
The solution: recording machine data via an app and controlling processes in real time
After consultation discussions with a view to simple and time-saving workflows, the company was convinced that smapOne was the right solution. The first smap for noticeable problems in production – especially important for quality management – was built in tandem with smapOne. Photo modules, text entry fields and barcode scanners are now used to document whether everything is running as desired in the production hall. After submitting the data, a meaningful report that is optimised visually is generated, which is available both online and offline. The need to manually merge images from production and handwritten notes was eliminated completely. To save even more time, the standard report template was aligned fully with the company's corporate design. This preparation meant it could be sent to end customers without any further processing.

These valuable reports can:
Be sent directly to customers without any further updating,
Be reviewed directly in team meetings or with employees,
Be used for long-term, legally compliant documentation for customers, and
Be sent digitally to various email distribution lists.
After the initial successes, the next job was to explore further opportunities to make everyday life easier for staff. The next goal: to make production processes visible. With this in mind, smaps were built that made it as easy as possible to collect machine data: 20 easy-to-understand building blocks, three formulas, submit, and – finished! The data collected and output by the smaps runs via a PowerQuery into a previously defined folder structure in the operating environment. There, various Excel files are filled with the corresponding data from the PowerQuery and smapOne. Data that employees enter several times a day is stored here immediately. This ensures permanent access to complete, readable data that always has the same structure. Thanks to a workflow, data from the PowerQuery is transferred directly to the statistical software "Minitab". The graphical possibilities are therefore many times greater and can be mapped much faster through automation.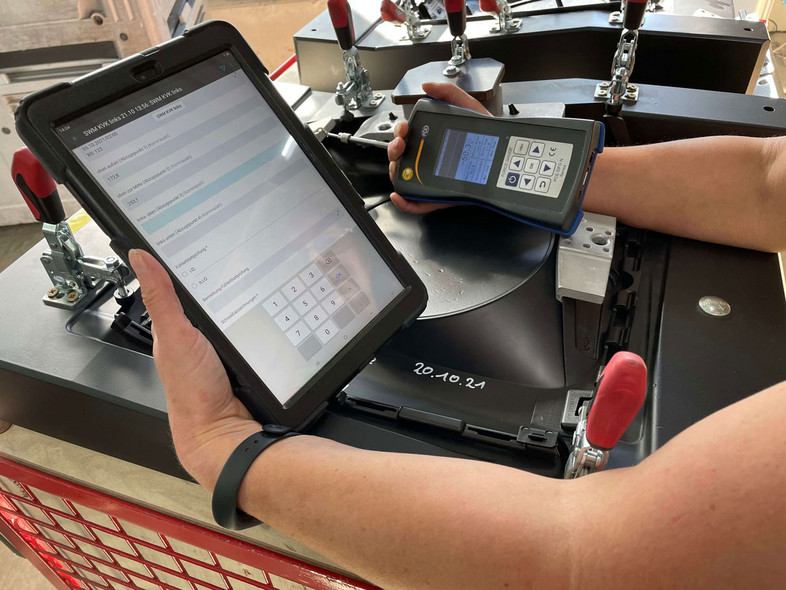 Process controlling: precision and prevention thanks to digital data in real time
In the supplier industry, the dimensional tolerance for manufactured parts is very small. The upper and lower limits are often within a few millimetres of one another. Due to the recording of production data at short intervals (e.g. dimensions of the manufactured parts), deviations in the production process can be made visible immediately and the machine can be readjusted without delay. In addition to the visibility of deviations, there is another advantage: quality improvement measures can be checked immediately for their effectiveness.
The new type of data enables:
Complete process transparency
Recording data at short intervals in real time
Visibility of deviations in the production process
Immediate measures for quality improvement
This way the process runs optimally and reduces errors in production to a minimum. The data enables comprehensive process controlling and much smoother and more stable production than before. Deteriorations in quality are detected and remedied at an early stage.
OSBRA GmbH also takes advantage of the geographical flexibility that smapOne brings. The fact that smaps can be installed on any smartphone means that checking data at external locations happens fast and efficiently. In the future, the company wants to incorporate further workflows and link various software programs with the data from the smaps. This way, OSBRA wants its processes to become even more meaningful and efficient.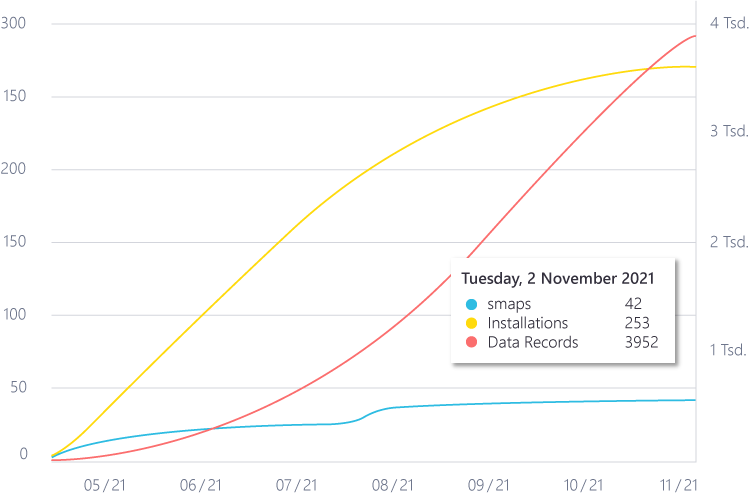 OSBRA Formteile GmbH: Data acquisition digitised with smapOne - almost 4,000 data records in 6 months
The mindset: smappified employees and enthusiastic customers
Initially it took a few trailblazers. It initially took a few trailblazers, but once the new tool was installed it quickly inspired others. After the first evaluation, all employees were fully convinced and threw themselves into the digitisation of their daily work. Employees provide support and suggest improvements for each new smap. This means the whole company is driving digitisation forward with innovative and creative ideas. The longer the smaps are in use, the more familiar employees become with their building blocks, prompting them to get creative in the search for new solutions. "With cool, new building block combinations, we try different things out and find the best way to move forward together." Customers are also providing positive feedback: the data in the reports is more meaningful and available more quickly. For large projects, this uncomplicated evaluation ensures smooth organisation and saves a lot of time for everyone involved.